All Levels – Vinyasa Flow
An all levels yoga class with a variety of postures, warming flow, standing poses, twists, all connecting breath with movement. Modifications for more challenging poses will be offered.
Sunrise Yoga
Each class begins with light meditation and gentle stretches to wake up the body. Then transition into energizing sun salutations, standing and balancing poses to round out the practice. A great way to start your day!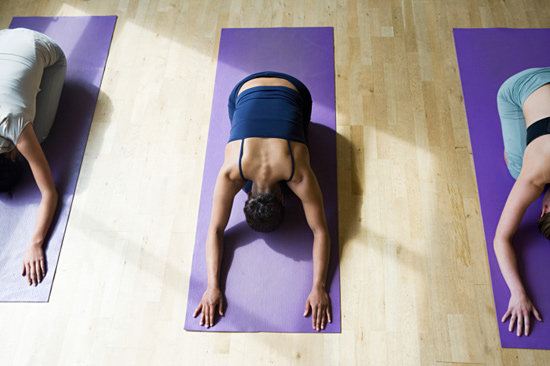 SunRise Core – NEW
Yoga for Core – Postures and sequencing will be geared toward strengthening and stabilizing the abdominals, glutes and thighs. Having a strong core helps to stabilize the body which can prevent injuries and reduce low back pain. Use of ballet barre, Pilates rings, exercise balls, hand weights and more.
Chair Yoga – NEW
Chair yoga is a form of yoga practiced sitting on a chair, or standing using a chair for support. This can benefit those who cannot transition easily from sitting to standing. We focus on strength, flexibility and balance!
Holy Yoga
Join us for an intentional practice of connecting our entire being, body, mind and spirit with God: With complete reliance on God's Word and prayer, Holy Yoga invites us to surrender and introduces us to Grace.
Yin/Deep Stretch
This class emphasizes gentle stretching, coordination of breath with movement and attention to alignment. The class is designed to create breath awareness, enhance balance, and increase flexibility. De-stress and Relax. Suitable for all levels especially beginners.
Intermediate Flow
This class is designed to take your practice to the next level. Building on what you already know in your yoga practice, this class incorporates quick flows for stamina, slow flows for strength, and gives you a chance to weave some arm balances and more advanced inversions into your practice.
Beginners Yoga
This practice will take you gently through the fundamental teachings and poses of the Yoga Practice. We introduce the concepts of breath and body movement connection, in a slower paced, informative class, designed to provide you with a strong foundation in the practice of yoga. 
Gentle Yoga
This class emphasizes stretching, coordination of breath with movement and attention to alignment. The class is designed to create breath awareness, enhance balance, and increase flexibility. De-stress and Relax. Suitable for all levels