Deep Tissue/Sports Massage
A therapeutic massage is custom designed to address each individual's needs. This deeply penetrating massage incorporates special techniques to release stress and tension.
1/2 hour $40        1 hour $75        1 1/2 hour $105
Prenatal Massage
Designed to pay attention to the mother-to-be, this massage works out all the knots in those muscles you never knew you had.  Pregnancy Massage will help to soothe, comfort and relax in all stages of pregnancy.
1/2 hour $40        1 hour $75        1 1/2 hour $105
Reflexology
This ancient Eastern practice utilizes "thumb walking" to pressure points to release tension and relax the body.  Focusing on points in the feet that correspond to specific parts of the body, your body will be helped to heal and  relax.  Put your feet up and let me do the work!
1/2 hour $40         1 hour $75
Thai Massage
Thai Massage, also known as "lazy man's yoga", utilizes deep stretching techniques and focuses on acupressure points and meridians throughout the body. This special technique helps to detoxify the body and release tension.  You are fully clothed on a Thai mat during this massage.  Please wear loose yoga clothes and refrain from eating two hours prior to treatment.
1 hour $80
Ear Candling
Ear candles are believed to help with the treatment of nose and throat congestion, sinusitis, headaches, T.M.J. pain, tinnitus and otitis external/tropical ear.  They are ideal in assisting relaxation as an effective treatment for stress or anxiety related symptoms.
1/2 hr $45  (2 candles)
Raindrop Technique $80
Raindrop Technique® – so much more than just a massage! Imagine the sensation of sinking into a deep and blissful state of rest, as someone does the ancient Tibetan version of reflexology on your feet. As you slowly (even reluctantly) come back to your body and roll over, you experience the gentle splashes as therapeutic grade essential oils are applied up your spine and to your tired muscles.
These oils are then "feathered in" using a spine-tingling technique inspired by the Native Americans, combined with massage. You can't get more pampered than this!
Raindrop Technique derives its name from the art of dripping unadulterated, therapeutic-grade essential oils onto the body from a height (like rain), so that the oils interact with the physical body as well as the energy field. This was inspired by the Native American belief that raindrops falling from a height may purify and cleanse the body and spirit. Because the essential oils easily penetrate the skin and muscles, the technique works on deep levels of the body without requiring hard pressure or force.
Raindrop Technique was developed by essential oil researcher and naturopath D. Gary Young due to research showing that many forms of spinal misalignment are caused by muscle spasms and inflammation-producing bacteria and viruses that reside along the spine.
_______________________________________________________
About Robin Ray, LMT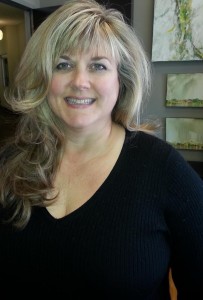 Robin is a Licensed Massage Therapist trained in Swedish Massage, Sports Massage, Trigger Point Therapy, Prenatal Massage, Myofacial Release, Aromatherapy, Thai Massage, Lomi Lomi, Chair Massage, La Stone Hot Stone Therapy, Reflexology, and Face-Lift Massage.
Robin trained at Massage Resources, Inc. and works with a variety of professionals including chiropractors, physical therapists and athletic trainers.  Exacting professional standards and continuing education ensure quality care.  She has been a Registered Massage Therapist since 1995.
Robin is also a Young Living Essential Oils member.  Read more about her journey at www.TheLavenderLife.net
By appointment only Monday – Saturday.
To schedule an appointment, call 214-669-8517 or email rbnray@yahoo.com